This content is also available in : French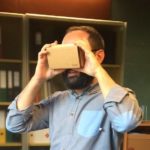 My name is Sébastien Magro, I am 35 and I live in Paris, France with Montreal, Qc, Canada at heart. Initially trained in design, I hold a Master of Museology and have been working for 12 years as a museum professionnal, both in France and Québec, Canada.
On this blog, you will find some thoughts about what digital tools and devices change in museums: new forms of museums education, collaborative and participative experiences, internal organisation, relationships to visitors. I am also interested in museum news and museology as a whole, as well as museum education and accessibility.
Background
I have both a design and cultural background, and began my career at VIA galery, being both the Head of Documentation and a Production Manager, from 2004 to 2007. Then, I spent a year and a half in Montreal, Qc, Canada, working as a graphic designer for Bélanger Branding Design. When I came back to Paris, I designed graphic material for a European project of the MuCEM, before its opening. In 2009 and 2010, I was an Assistant Curator at Les Arts Décoratifs and worked on a Kate Moss exhibition, as well as on La publicité au secours des grandes causes. Meanwhile, in 2010,  I started blogging on digital projects in museums and GLAMs.
I joined musée du quai Branly in February 2012, first as a New Media Manager, and now as a Deputy Head for Digital Development. I manage a social media team of 12 contributing staff members who publish on social media websites, following a strategy that I created. I also work on digital projects around exhibitions and events (social media, transmedia storytelling, mobile apps, etc…). Finally, I conduct a technological watch on digital news in GLAMs, send a monthly bulletin to the museum's staff.
I am an active member of the French #museogeeks communit, and a part of Muzeonum's board. I often speak at conferences and workshops, and started teaching as an Associate Professionnal at Sorbonne Nouvelle – Université Paris III in Sept. 2014.
Interviews in English
Contact
You may reach me at sebastien dot magro at gmail dot com.
Of course, views expressed of this blog are my own, and do not reflect my employers' positions.
Last update: September 2016.